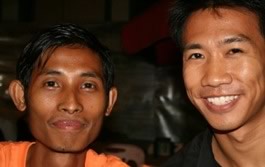 "Teaching with EPOP has been a great experience all around. There was excellent support by the EPOP staff and my experience in Myanmar was exceptional. The culture is warm and welcoming and my students were some of the most motivated I have ever worked with. I would definitely do it again."
Danny – Teacher, Myanmar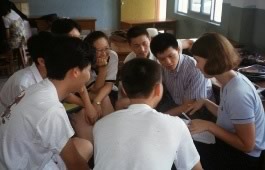 Volunteer FAQ's
Face-to-Face Volunteers:
Who volunteers with EPOP Asia?
EPOP volunteers come from a variety of backgrounds, ages and nationalities. While we do not require volunteers to be native English speakers, we do require that volunteers are fluent in English, and have a strong desire to promote access to  quality education. We also look for volunteers with prior international or development experience. EPOP Asia is especially interested in working with individuals looking to gain international project coordination experience at the community level.
I have no teaching experience, can I still apply?
Yes, EPOP chooses teachers based on them being fluent in English, and having at least 1 of the following criteria:
1 year or more experience teaching or tutoring in a professional setting.
A recognized 120 hour TEFL or CELTA certificate which included a practicum.
A Bachelor's or higher degree.
Does EPOP Cover all expenses associated with Face-to-Face Teaching?
No. While EPOP provides a small stipend to help offset living costs, the stipend of 3000Baht (about USD 100) will only  cover a portion of housing costs. Additional costs associated with volunteering are NOT covered by EPOP. Flights to and from Southeast Asia, as well as daily food and transportation costs are the responsibility of the volunteer.
What are the average costs incurred by volunteers during a three month placement?
Depending on the type of accomodation and restaurants a volunteer chooses, monthly costs can range from USD 500 to USD 1000 (this estimate does not include the monthly stipend). The largest cost associated with volunteering is likely to be your flight to Southeast Asia.
Do volunteer teachers get to choose their placements?
To a certain extent, Yes. Volunteer prefences are the most important factor in deciding placements. However, we do try to strike a balance between volunteer prefernce and student need. The placement process is collaborative, and we would never send a volunteer to a location that made them uncomfortable. Happy volunteers make for better teachers and happier students; therefore, we try to be as accomodating as possible.
Can I volunteer for less than three months?
No. To provide a good level of education to our students, we ask that volunteers commit to at least three months. Short term placements, although desired by many applicants, do not offer the same consistency in education and learning that EPOP tries to provide. Staying for longer provides a greater level of cultural immersion and a chance to make a lasting connection with your students.
What will my teaching schedule look like?
EPOP teachers are responsible for three classes: Academic English 1, Academic English 2, and TOEFL Prep. Typically, each class meets for 2 hours, twice a week. Thus, EPOP Volunteers can expect to spend 12 hours a week on in-class teaching. Because students are often working full-time, classes are usually held in the evenings or on weekends. However, class schedules are set by the volunteer teacher in coordination with student preferences at the begining of every semester. There will also be a on-line grading component, where teachers read and assess their own students forum posts: this is the only assessments you will be expected to do. All other assignments are assessed on EPOP's online educational portal.
Who will I be teaching?
The students will mostly be university undergraduates and postgraduates, hoping to continue their studies abroad. Many of the students come from disadvantaged backgrounds or fractured communities that cannot offer the same level of education. Students will be most likely be in the 24-36 year range. Many of the students will also work full time jobs to support themselves and their families.
What teaching materials will I have to use?
EPOP will supply teachers with a full range of course books and study guides, as well as a teacher's survival kit with advice on how to work with the program. Additionally, the EPOP web portal provides further resources for teachers to choose from.

What is the typical class size?
The maximum class size is 15, however classes usually have 5-9  students that attend regularly.

Online Tutors
What can I expect as an online tutor?
Tutoring online is a great opportunity to develop life-long friendships with people who are working to better their community in a developing country.
Online tutors give about 5 – 6 hours per week answering questions, discussing topics students are studying and marking student assessments. Online tutors generally have 5 or 6 students to tutor but you can choose to have more or less. If you want to tutor one student, that is ok with us.
Curriculum Developers
What can I expect as a volunteer curriculum developer?
Curriculum developers can work from anywhere in the world and will be placed in a collaborative team where all members will be have input and be expected to contribute their talent. Developing a course will include but not be limited to:
Identifying online and offline resources that support a student's understanding of already identified concepts, topics and skills needed for university and exam preparation.
Develop new resources which could be powerpoint presentations, videos, text, or audio files that fill the gaps that existing resources leave.
As a team debate and come to decisions about course framework and content.
If you are interested in being a curriculum developer, please email epopasia@gmail.com.