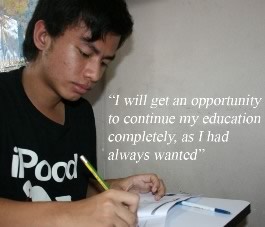 "EPOP helped me to find solutions and provided me with all the material and technical assistance which was best suited to me and for my actual test. Thanks to EPOP and their staff!"
Samnang (Cambodia)
Hong Kong University Student
"I am really grateful and honored to participate in this program, and I believe that I will get an opportunity to continue my education completely as I had always wanted."
So Yeon (Laos) student
Student FAQ's
What are the requirements to join EPOP?
At least an Intermediate level of English; experience working to improve your community; and a clear direction and plan to study at university.
How many students a year does EPOP accept?
EPOP does not put a limit on the number of students we accept.
How much do the courses cost?
EPOP will begin charging a small course fee starting in March 2013. The course fee will be approximately USD15/semester. Student will also be required to pay for books which cost USD15 for AE1 and AE2 courses and USD 25 for TOEFL ITP.
Where is the EPOP school?
We don't have a school. EPOP is a flexible program that provides guided self and group study; classes with face to face teachers; online tutors; and intensive month-long short courses taught by expert instructors. Classes will be arranged with partner organizations who will provide a space for study.
Does EPOP provide accommodation and stipends?
No. EPOP is a program that you can study while you work. It requires about 10 hours of study each week.
Do I pick which exam to study for?
No. The university program that you chose has its own requirements. They determine what exam(s) you need.
How long do I have to study with EPOP?
The length of study is determined by how well you do on the EPOP Entrance Exam. We have 3, 6 and 9 month courses.
Does EPOP pay for exam fees?
EPOP will pay transportation, accommodation and exam fees ONLY for students who are successful in the program. Being accepted to EPOP does not guarantee that you will have your exams arranged and paid for.
When can I join EPOP?
Students who are already in the process of applying to university can apply
anytime. Students who don't know which university program they want to attend
should get academic counseling and to apply in August 2012. You can visit
www.cies.org/about_fulb.htm, www.myanmarstudyabroad.org,
eacea.ec.europa.eu/erasmus_mundus/index_en.php, and
www.asianscholarship.org/asf/index.php, to find out more about university programs.
Application Deadlines: For studies beginning on March 11, application are due on February 3rd.